"Ate pahingi naman ng malalaking blouse mo if meron" (translation: Is it okay if I can have any larger clothes from you?). Rocel told me that one time when we were talking, she is my childhood best friend that is a gorgeous full figured lady. She always wears tees and jeans whenever she goes out or to work, keeping her gorgeous figure. I would want to see her bloom, be more adventurous with her style, I also love when all of them (Rocel, Roquelle & Roma) are staring at me whenever I do a make-up tutorial. Enough of the RoRoRoKa girls, it's Rocel's time to shine now.
I would want to help her style herself without taking away her comfort zone, which are her tees and jeans. She could always play with her outfit and mix and match items from her closet. If she'll be wearing a tee, I would want to see her in a V-Necked tee rather than the round neck because it will only make her look fuller (that's based on my opinion only).
I searched for photos that could help her with styling herself up and I'll just be there to guide her what fits her well.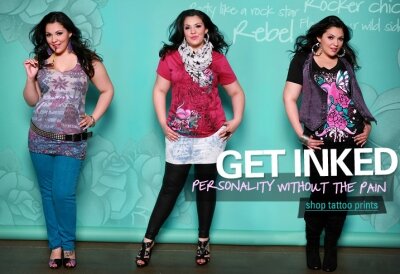 In this photo, it will show her how to do layering and how to play with colors. She should be afraid to wear colors that are striking, just as long as it doesn't go over the top. I love how simple staples, just like the tank top on the first outfit, is glammed up with a studded belt which gives the illusion of having a longer torso.
In this next photo she can see how she could dress up in a casual day out or even for church. Prints and a staple white blouse is a must in a girls closet because you could really play with these clothing items. An empire waist top will give her the illusion of a fuller chest and longer body. She could also play up with the accessories, if she's wearing a top with a loud print tone done the accessories with monochromatic colors and if she's wearing something plain jazz it up with gems but not too much.
Here are choices for an evening out with the girls or if she just wants to dress up. These are clothes that are not over the top and that she could easily pull off. It's not really a drastic change but still it will give her a more glamorous look to her.
I hope that this post will really help my best friend find more confidence in herself, I will always be here to help her out and I will never fail to keep her grounded. Soon make-up tips for my girls. See y'all soon!