Pound is a byproduct of the Celebrity Chef Todd English. The flagship restaurant is in Bonifacio Global City. The restaurant's specialty are burgers and sliders but you can still choose from their other courses. The branch that I visited was in SM MegaMall and is located in the Fashion Hall.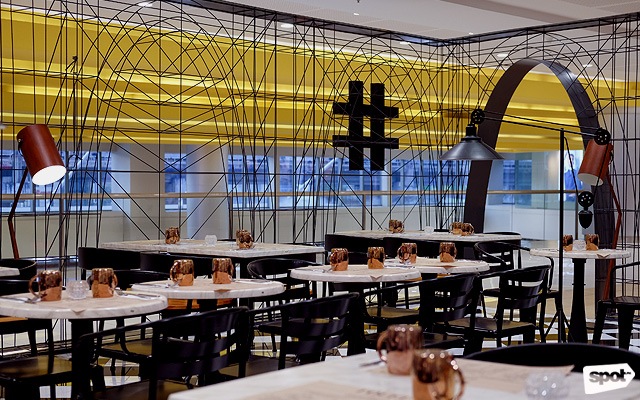 The restaurant is very IG worthy and the minimalist feel of the restaurant can be a bit intimidating at first. The rose gold cups will catch your attention and the black grills that enclose the place is stunning. There is also an actual establishment next to the pop-up one that i went to and both have the black and rose gold accents that are very pleasing to the eyes.
The staff of the Pound are very friendly and
accommodating
. You can see smiles on their faces when you look at them. You can say that they have great customer service skills.
Sticking to their minimalist vibe, the menu is printed out in a sheet of paper that is also used as a placemat. Simple and easy to read!
The
T.E. Burge
is made with house ground beef with tomatoes, lettuce, crispy onion, mustard relish, the famous T.E. sauce and is nestled between a brioche bun. You can either order it as a burger or as T.E. sliders which is two mini ones. T.E. Crispy Chicken Burger, the chicken is drenched with T.E.'s sweet spice and has crispy pickled slaw and cilantro aioli.
You can also order the sliders version of this burger as well.
You can personalize your burgers and you can choose from their different cheeses, caramelized onions, bacon, foie gras mousse or fried egg. These can be added to any order that you place.
They have options such as truffle ketchup, mustard relish or cilantro aioli.
They serve only one rice meal and that is the sizzling pound moco. It is a house ground beef patty on top of garlic rice with peppercorn gravy and sunny side up egg. It is like an upgraded version of a silog if I may say so myself. My best friend ordered this and she enjoyed every bite of it.
If you want something green, they have three salads to offer. They have a crispy goat cheese salad, caesar salad and crispy chicken wrap. You can also add to your salad depending on your liking. I ordered the caesar salad and house smoked bacon on the side and it was sumptuous. I asked for the croutons to be removed and they kindly obliged to my request. You can customize your meal in any way that you like which is awesome.
They have pastas that are to die for. Though they only have two options which are the pound pomodoro and the caramelized bacon alfredo. These recipes are made from choice ingredients and, based on the reviews, are exquisitely delicious.
They offer Canada's famous snack, poutine, and they have 3 variations of this classic. Todd English's signature poutine has homemade gravy, caramelized onions, cheese and ground beef. They also have pizza and bacon varieties of poutine. They have 4 varieties of the fries; good ol', parmesan, truffle and sweet potato, different choices for different people or mood.
They have house blend iced tea, soft drinks and a variety of juices. The restaurant also serves alcoholic drinks if you want to gram some. They also offer milkshakes for your sweet tooth. I wasn't able to their desserts but based on the reviews that I have read, they are superb. My best friend ordered the betty white milkshake and she loved it.i noticed that they have a small serving of the milkshakes but I don't mind because i am not into those, just a reminder for the milkshake connoisseurs out there.
It is inside the mall so it is easy to spot
(since we opted for the pop up restaurant) i did not like the fact that the staff had to walk from the main restaurant to where we were

Since it is an open space, people can stare at you while you eat
I recommend this restaurant for those who wants a taste of fine dining on a budget. The food and the atmosphere is perfect for a date as well. If you don't like people looking at you while you eat, you can go straight to the main restaurant just across. It is a must try and it is worth the hype.
"Food is not about impressing people. It's about making them feel comfortable."
—
Ina Garten, 'The Barefoot Contessa Cookbook'
images from:
(https://www.spot.ph/eatdrink/the-latest-eat-drink/69617/pound-makes-feasting-on-burgers-a-stylish-affair-a1554-20170318-lfrm; https://www.zomato.com/manila/pound-by-todd-english-ortigas-mandaluyong-city)