These are the clothes that I have on my clothes' rack. It's super messy.
This is the situation of my clothes' rack. I have arranged it by color but whenever we have our clothes pressed the lady will then place my clothes in random spots. I can't get my clothes to look neat. I wish to have them neatly organized without anyone ruining it.
These are the hangers that I am using for my clothes. I love how it keeps the shape of my tops. It does not leave any weird marks on the shoulder area. Sadly, I don't have enough of this hangers and I have no idea where to buy them. My mum had her friend buy them for me. I will scour Divisoria to search for these hangers.
I bought a bunch of black plastic hangers for my other tops. My closet is about to burst because of the clothes that I have. I really need a bigger space for my clothes. I am really wanting to have something to organize my clothes and to keep them from being crumpled. I want everything to be neat and organized but am not able to achieve it.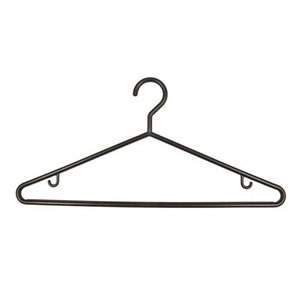 This is what I want to have for my room. It is a shelf and a clothes' rack in one. I put my accessories on top and then my clothes on the rack. This will also save space in my room since it has a small area. I wish that my cats won't jump at it when everything is installed. I would have to search for a sturdy wall-mounted shelving/rack like this.
Someone told me that I will find such items at 999 Mall in Divisoria. I will go there next year after I have saved enough money. I will be buying a canopy and sofa bed as well. I want my room to be organized, I hope that I will be able to achieve all of this.
Thank you so much for reading loves, God bless you.
Stay fab!